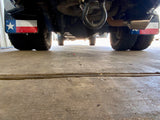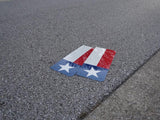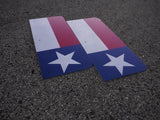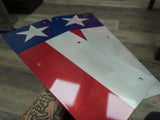 LIMITED-TIME SALE ALERT!
Gentlemen, the perfect holiday gift awaits you – and it's not just another tie! Surprise that special someone, or treat yourself with our exclusive Texas Mud Flap Panels --- you can't find these anywhere else... That's a GUARANTEE!
Built tough. Looks sharp. Just like you and your dually.
Unbeatable Pricing: Originally priced at $99.90, it's now available for a mere $59.95 (50% OFF!). Remember, this special ends on 11/19/2023.
️Superior Craftsmanship: Every detail, from the initial laser-cut to the final powder-coat finish, is crafted in-house at our shop. From cutting and sanding to printing and coating, we ensure perfection at each step. The result? Beautiful, never-before-seen panels that embody both function and the raw grit of TEXAS.
All-American Gift: When you gift something 100% Made in the USA, you're gifting unmatched quality, dedication, and craftsmanship. It's an expression of appreciation for the best our nation offers. 🇺🇸
Don't wait! Grab your exclusive Texas Mud Flap Panels now and make this holiday season one to remember. Hurry, this special offer ends on 11/19/2023.
Note: Get yours while supplies last! Limited stock is available and all orders ship within 7 business days.
Size: 18" (H) x 7.5" (W)
Handcrafted from premium aluminum
Finished with a clear powder coat for ultimate protection
Easily mountable to your mud flaps
Proudly made in the USA!
*2 panels are included with every purchase*
Locally crafted and shipped from Nashville, TN.