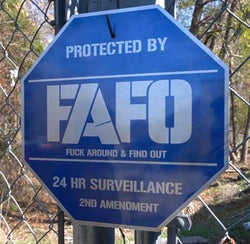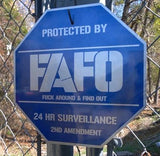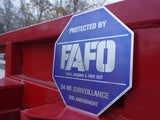 Protected By FAFO Metal Sign
Introducing our 'Protected By FAFO' Metal Sign
Size: 12" x 12" | Price: Just $24.95!
Explore the boldness of our "Protected By FAFO" Metal Sign. This impactful piece measures 12 inches, perfect for anywhere. And the best part? It's available for just $24.95... 👀
Note: We currently have stock available for immediate shipping
Dimensions: 12" x 12", 24" x 24", 36" x 36"
Material: Premium quality American metal
Finish: Durable powder coating
Usage: Ideal for both indoor and outdoor settings
Locally crafted and shipped from Nashville, TN.
Enter code FAFO10 for an additional 10% off your order, valid until tonight!