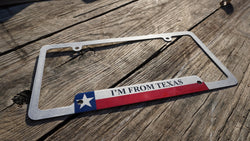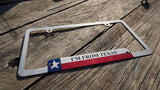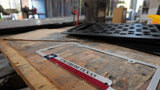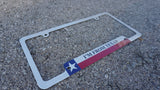 Attention, Texas drivers! You know the deal here in the Lone Star State - gotta have both FRONT and BACK license plates to hit the road! 🚗💨 That's why we've got the perfect solution for you - a custom license plate frame that rocks the iconic Texas colors and features the catchy music lyric "B... I'm From Texas"!
Show off your Texas-Mexico pride with this one-of-a-kind frame that beautifully showcases the vibrant Texas colors and the beloved state flag! 🤘 We currently have stock available for immediate shipping, so don't miss this opportunity to add a unique touch to your vehicle and hit the road in style!
Available now with speedy delivery! Expect your frame in just 5-7 business days.
Dimensions: 12" x 6"

Material: High-quality American aluminum

Suitable for all-day outdoor use


Proudly made in the USA!

Locally crafted and shipped from Nashville, TN.