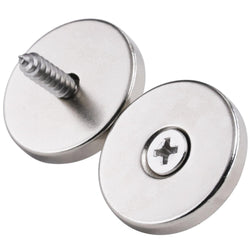 Mounting Hardware Kit (2-bag)
Looking for a perfect and seamless way to hang your newly acquired artwork?  We've put together an easy DIY kit that will safely secure any piece to almost any material! (For flags only not intended for frames)
Contents:
(2)1.26" x .02 Countersunk Neodymium Rare Earth Magnets
With each magnet pulling 25lbs of force, you'll never have to worry about artwork falling off the wall and potentially getting damaged!  Each kit contains Four (4) magnets.
Options
- Drywall Kit 
Includes 4 drywall anchors with appropriate screws to fasten magnets to a drywall surface.
- Masonry Kit
Includes 4 3/16" x 1 1/4" Tapcon screws. (Requires 3/16" drill bit, not supplied)
Wood Kit
Includes 4 #8 x 1 1/2" T25 Wood Screws (Requires T25 bit, not supplied)