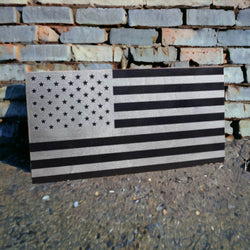 A True Display of Patriotism
Crafted with 100% premium American aluminum, this desktop flag is proudly made in the USA. Its versatile design makes it suitable for both indoor and outdoor use, allowing you to showcase your American spirit wherever you choose.
Measuring 8" x 4", this compact sign comes with convenient ez-bend legs attached, making it easy to place on any flat surface such as your desk, shelf, or countertop. Its sturdy construction ensures durability, allowing you to proudly display your love for your country for years to come.
As a family-owned and operated business, we are dedicated to providing high-quality products that represent our cherished values. We believe in supporting American manufacturing, which is why we use premium American aluminum in the production of our desktop flags. By purchasing this product, you're not only displaying your patriotism but also supporting local businesses and American workers.
To ensure your satisfaction, we offer a 30-Day money-back guarantee. We're confident that you'll love our Desktop Subdued Flag. However, if for any reason you're not completely satisfied, simply reach out to our dedicated customer support team, and we'll be glad to assist you.
100% Made in the USA
Premium American aluminum
Indoor/outdoor suitable
Family-owned and operated
30-Day money-back guarantee