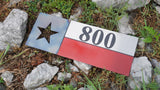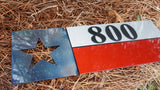 EACH FLAG IS HANDCRAFTED TO PERFECTION AND MADE TO ORDER

Our Texas Address Sign is meticulously handcrafted using the latest in CNC Fiber Laser technology.  The stars are heat treated with oxyacetylene assuring that no two pieces are identical.  The color is achieved with a transparent red powder coat and a glossy layer of clear for ultimate protection. Weatherproof and suitable for use outside in all seasons. 
Dimensions: 18" x 6", 24" x 9", 36" x 15", 48" x 20"

Material: 16 gauge American steel

Custom painted and finished with a powder coat for extreme durability

Suitable for indoor and outdoor use
Locally crafted and shipped from Nashville, TN.
IMPORTANT; PLEASE ENTER YOUR NUMBERS IN THE "HOUSE NUMBERS" BOX ABOVE. 
In the pictures, the address sign with the number 800 is size 18". We do not have restrictions on the number of numbers that you can place on a specific size, but we recommend those with 5+ digits go size 24"+, and 7+ go 36"+.
Yes, it is possible to use letters instead of numbers. If you want, you can type letters in the "House Numbers" box instead of numbers. It doesn't matter if it's letters, numbers, or a combination. All you have to do is make sure everything fits the size you choose.
Not sure? You can always reach out to us at sales@nashvillemetalart.com and we can give you a definitive answer.