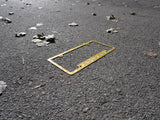 Duckie License Plate Frame
OMG! It's a DUCKIE!!
Everyone loves a cute duck! Handcrafted in-house, our 'Duckie' license plate frame is a perfect way to show off your fun side. Made to last, it's tough against rain and sun. It's not just for looks; it tells the world you love to have a bit of fun. ;) So if you want your car to make people smile (hi, traffic), get the 'Duckie' frame!

Note: We currently have stock available for immediate shipping!
Dimensions: 12" x 6" (fits all standard size license plates)
Material: High-quality American aluminum
Powder-coat finish
Suitable for all-day outdoor use
Proudly made in the USA!
Locally crafted and shipped from Nashville, TN.